Happy Birthday Quotes: Beautiful, famous and inspirational birthday quotes and sayings to celebrate the birthday of your friends, family or loved ones. Find the unique way to say your loved ones a happy birthday. Don't go with traditional or simple way to say "happy birthday"! There are many offbeat, witty, heart-warming and humorous quotes and sayings to send to your loved ones.
Finding some famous, inspiring or funny birthday quotes may sometimes be difficult. Keeping your needs in mind of inspirational sayings and happy birthday quotes to wish your loved one, here we have provided our selective and famous birthday quotes and inspirational sayings to wish someone a Happy Birthday. Choose a perfect quote from our collection of quotes on birthday and age privileges. It will give a whole new dimension to your birthday card.
Happy Birthday Quotes – Humour
"Growing old is still the only way we've found to live long." —Sainte Beuve
"Never give time to time. It takes advantage of it." —Jean Amadou
"Celebrating birthdays is proven to be good for you. Statistics show that the people who celebrate the most get the oldest." —Den Hartog
"My father's age was twenty five years older than me, and that has never changed." —Marcel Pagnol
"If he forgets to wish me my birthday, it's because he doesn't see me getting old." —Michele Bernier
"Age is just a number. It doesn't matter at all unless you're a bottle of wine." —Joan collins
"The first thirty years are spent not being able to wake up, the next thirty years not being able to fall asleep." —Chinese proverb
"Can't tell you my age, it's changing all the time." —Alphonse Allais
Read More: Best Belated Birthday Wishes
Happy Birthday Quotes – 15 to 30 Years
Sometimes when you are young, you encounter difficulties, that is, you must take it seriously. The following quotation highlights the value of youth and illustrates that the generation gap is not a new thing. Therefore, when we remember that this philosopher lived in the 5th century BC, Socrates' famous saying has a specific meaning! Relatively speaking, how to humorously accept the famous little sentence about "the youth of today".
"Youth doesn't reason, it acts; the old man reasons & would like others to act in his place." —Francis Picabia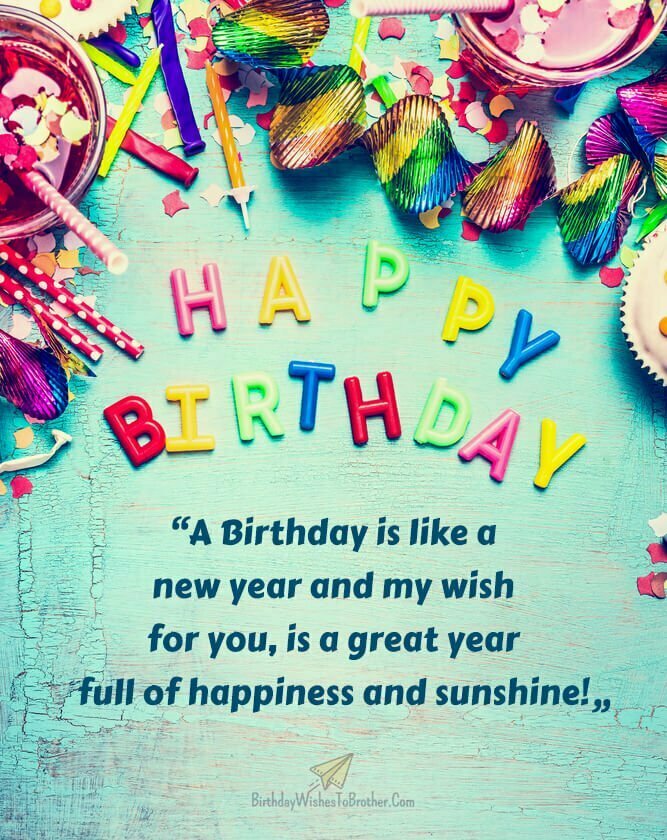 "To well-born souls, value does not await the number of years." —Pierre Corneille
"Better to waste your youth than to do nothing at all." —Georges courteline
"Our young people love luxury, have bad manners, mock authority & have no respect for age." —Socrate
Read More: Best Christian Birthday Wishes
Happy Birthday Quotes – 30 Years to 40 Years
Beautiful and selective birthday quotes and sayings that are famous and inspiring for those who turning 30 to 40.
"Thirty, thirty-five is the age when a woman can do the worst follies." —Antonine Maillet
"We hardly understand the word youth before the age of thirty." —Jean Dutourd
"It is between thirty and thirty-one that women experience the best ten years of their lives." —Sacha Guitry
Happy Birthday Quotes – 40 Years to 50 Years
Famous and inspirational birthday quotes for 40 to 50 year olds to inspire and motivate them for life.
"It is a pity that there is too little interval between the time when we are too young and the time when we are too old." —Charles de Montesquieu
"When you are twenty, you think you have solved the riddle of the world; at thirty, you begin to reflect on her and at forty, you discover that she is insoluble." —August Strindberg
"We don't understand life at forty any more than we do at twenty, but we know it, and we admit it. That's youth." —Jules Renard
"No one is young after forty, but you can be irresistible at any age." —Coco Chanel
"All that is exquisite matures slowly." —Arthur Schopenhauer
Read More: Happy 30th Birthday Wishes
Happy Birthday Quotes – 60 Years to 70 Years, and Over
Best and famous happy birthday quotes and sayings for those who are turning between 60 to 70 and over.
"One of the privileges of old age is to have, in addition to one's age, all ages." —Victor Hugo
"We begin to notice that we age when the weight of the candles exceeds that of the cake." —Bette Davis
"What I know at sixty, I knew it just as well at twenty. Forty years of long, superfluous verification work." —Emil Michel Cioran
Happy Birthday Quotes – Youth is a State of Mind
Certain quotes illustrate the fact that the spirit of youth can contradict age, which allows us to determine marital status. A pretty positive message to pass on a birthday! Check out these happy birthday quotes and sayings.
"Youth is not a period of life, it is a state of mind, an effect of the will, an emotional intensity, a victory of courage over shyness, of the taste for adventure over love of comfort." —Samuel Ulmann
"You are as young as your faith, as old as your doubt, as young as your hope, as young as your self-confidence, as old as your despondency." —Samuel Ulmann
"I know a way not to grow old: it's to welcome the years as they come and with a smile … a smile is always young." —Pierre Dac
"We are young as long as we want each day to differ from the day before; old when we hope that each year will be like the last." —Gilbert Cesbron
"Age does not protect you from the dangers of love. But love, to a certain extent, protects you from the dangers of age." —Jeanne Moreau
"Age is only a simulacrum. In the depths of oneself, there is nothing alive and true except his childhood and his youth." —Jacques Ferron
"After all, you have to be young. It doesn't matter what age you decide to be young." —Henri Duvernois
"You can't help but get old, but you can keep from getting old." —Henri Matisse
"There is always something in us that age does not mature." —Bossuet
"When I stop being indignant, I will have started my old age." —Andre Gide
"He whose soul is happy does not feel the weight of years." —Plato
"Whoever is old early will stay young for a long time." —Victor Hugo
Read More: Best Birthday Wishes for Husband
Happy Birthday Quotes to Enjoy Life!
People of any age may know how to enjoy life. A way to look at life, it's nice to enhance the bliss and happiness on your birthday. In this way, the balance sheet of the past few years will become relaxed and quiet! Check out these happy birthday quotes and celebrate the life of your loved ones.
We all have two lives and the second begins when we realize we only have one." —Confucius
He who knows how to take advantage of the moment, this is the wise man." —Johann Wolfgang von Goethe
The real question is: How to make the most of life? "The real answer is:" By avoiding asking the real questions!" —Georges Wolinski
A man is old only when regrets have taken the place of dreams in him." —John barrymore
He whose soul is happy does not feel the weight of years." —Plato
Any age bears its fruits, you have to know how to pick them." —Raymond Radiguet
If youth knew, if old age could, nothing would be lost." —Henri Estienne
Why not enjoy the pleasures immediately? How many moments of happiness have been wasted by too much preparation?" —Jane austen
The young man is handsome, but the old man is tall." —Victor Hugo
To be old is wonderful, if only you don't forget what it means to start." —Theodor Herzl
To do nothing is the happiness of the children and the misfortune of the old." —Victor Hugo
If youth is the most beautiful of flowers, old age is the tastiest of fruits." —Anne Sophie Swetchine
Live if believe me, don't wait until tomorrow, pick the roses of life today." —Pierre de Ronsard
The older I get, the more future I have." —Leon bloy
Finally, if you have some friends who you want to advise them to feel happier and give up everything to become more peaceful, then this sentence is not so optimistic but full of wisdom:
"The older we get, the more we convince ourselves that Her Majesty Chance rules three-quarters of the affairs of this miserable universe." —Frederick II the Great, King of Prussia
Read More: Best Birthday Wishes for Wife
These inspiring and famous happy birthday quotes and sayings are exactly the same that you are looking for. You can use these happy birthday quotes to write your birthday card or include in your birthday message. For something as memorable as a birthday, it's best to write your chosen quote on a birthday card and add a gift to it. To find beautiful birthday gifts and superb cards ideas among hundreds of models. You will find exceptional happy birthday quotes and sayings for your card. Hope you have enjoyed these happy birthday quotes and famous sayings to inspire your birthday boy or girl.